There's nothing Elon Musk can't do. In a surprising turn of events, Musk has now forayed into the perfume business. He took to Twitter to announce the launch of his new perfume which is oddly called, Burnt Hair.
Burnt Hair retails in a red bottle. The perfume can be brought from the Boring Company's website. The website features only the price of the perfume and not the fragrance notes except for a phrase that reads – "The Essence of Repugnant Desire". Burnt Hair retails for ₹8400 which includes taxes and domestic shipping. As stated on the website, the perfume will be shipped out in the first quarter of 2023.
A few days ago, Elon Musk shared a glimpse of the perfume on his Twitter. He tweeted, "With a name like mine, getting into the fragrance business was inevitable – why did I even fight it for so long!?"
According to the Tesla and SpaceX CEO, Burnt Hair is an omnigender product and can be paid for in Doge coins. He revealed that twenty thousand bottles of the perfume has been sold. He even asked people to buy his perfumes so he could buy Twitter.
Calling it "the finest fragrance on Earth", Elon Musk even changed his Twitter bio. The new bio reads, "perfume salesman".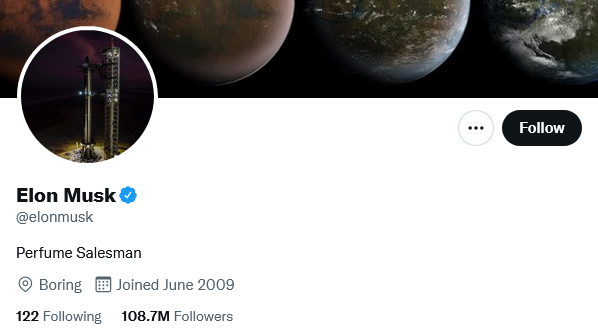 The perfume has broken the internet. Here's what people had to say about Burnt Hair.
Still wondering why would anyone pay ₹8400 to smell like burnt hair when you can do it at your home for free?