Agla station Rajiv Chowk hai, darwaze daayein taraf khulenge! Raise your hand if you hear these lines quite often while commuting in Delhi-NCR. Yes, I am talking about the Delhi Metro. It has become a part of our lives, especially for those who reside in the national capital and its adjoining areas. The Delhi Metro is not just a public transport facility, it is, in fact, a courtroom of drama, entertainment and more.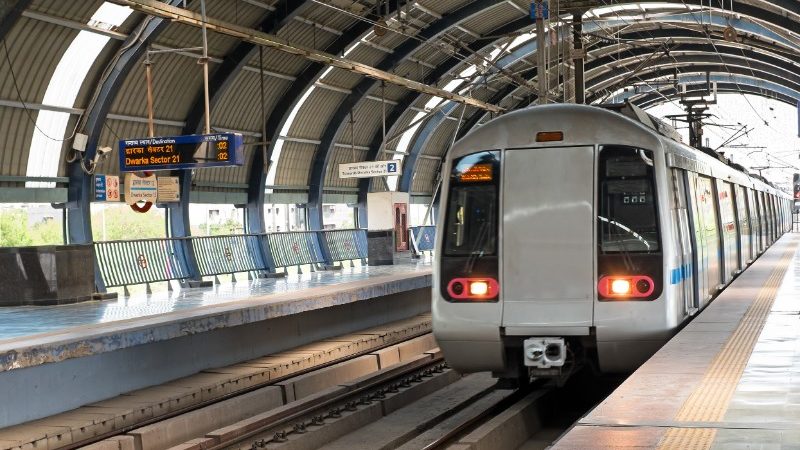 We have compiled eight videos of the Delhi Metro incidents that went viral in recent times:
Let's check them out, shall we?
1. When a woman was filmed for what she wore 'coz apparently she didn't follow 'social etiquettes'
Recently, a woman took the social media world by storm for how she was dressed while travelling in the Delhi Metro. Identified as Rhythm Chanana, the woman was spotted in a bralette and mini skirt inside the premises. The clip went insanely viral on Twitter and a section of the audience compared her to Uorfi Javed. Netizens went divided over her bold attire. Some people called out the passenger who recorded the clip without her consent.
2. When a metro driver 'accidentally' played a Haryanvi song 'coz it was a 'Friday night' man!
Unlike the usual announcement, the Delhi Metro went into Haryanvi mode, after its driver 'accidentally' played a peppy track, '2 Numbari' on speakers. A video of the moment went viral in which commuters can be seen giggling inside the coach while enjoying the Haryanvi track. 'Just the things we love about this city'.
3. When a woman used pepper spray on co-passenger and went like 'main tera jeena mushkil kardungi!'
Two women sitting next to each other ended up in a heated argument over seats. Apparently, one of them claimed that the other woman took over seating space more than was required. Their brawl turned quite ugly, so much so that the woman on the left sprayed pepper over the right one. From verbal abuse to hand twisting, everything happened between them. A clip of the incident has recently gone viral.
4. When two passengers fought over '1000 rupaiye ki T-shirt' 'coz ghar mein ladna is too common
In 2022, an alleged couple started fighting in the Delhi Metro over a tee. The girl bought a Zara T-shirt worth ₹1000 and the guy felt the fabric was overpriced and said it couldn't be more than 150 bucks. Both of them slapped each other during the ride and de-boarded the train, leaving everyone in splits.
5. When a group of passengers vibed to a bhajan 'coz Bollywood is too cliché
Dilliwallas can vibe with anything in the Delhi Metro, be it Haryanvi songs or devotional tracks. And this viral video is proof. In the clip, passengers can be seen jointly singing Shri Ram Janki while standing inside a crowded coach. 'Coz Bollywood toh bahot cliché hai yaar!
6. When two passengers had a verbal 'kalesh' over seat issue and one of them was like 'yahin marunga'
Seating issues are quite common in the Delhi Metro. Two male passengers, who were standing in an overcrowded coach, engaged in an ugly fight over seats, and a video of the incident is now going viral. In the clip, one of them can be seen threatening the other man, saying, "yahin marunga baap ka naam lega toh." Typical 'baap pe mat jaana' moment. Dolly Bindra, was that you?
7. When a man couldn't control his bladder and peed on the track 'coz 'thoda zyada hogya tha'
A male passenger, who was allegedly drunk, once took the public 'mutravisarjan' to the next level as he urinated on the railway track while commuting via the Delhi Metro. Its video went viral last year. In the clip, the man, who recorded the moment, can be seen asking the passenger about his action. The answer goes like, "Woh thoda zyada ho gaya tha". Reportedly, the incident took place at Malviya Nagar Metro Station. Control Uday, control!
8. When youngsters organised a musical performance 'coz thoda entertainment bhi zaroori hai
In a light-hearted moment, two young artists entertained other passengers with their musical performance while riding the Delhi Metro. In the viral clip, they can be seen playing flute and guitar while commuters enjoy the melodious tune. Wholesome, isn't it?
Have you watched these videos before?